12/1/12 - I have had this model a long time.  I've opened it up many times to build it, but have never actually done anything until now.  It is a curbside kit with no engine.  The body is made up of 6 parts, and there is a rather flimsy "chassis" pan that everything builds off of.  I couldn't find a good underside photo of the real car, but there are photos online of the 1/18 scale CMC diecast model.  After thinking about it a while, I decided to just go with black. 

The body panels were painted with one coat of Testor's silver, then some German Silver.  They were then topped off with two coats of Ultra Gloss clear.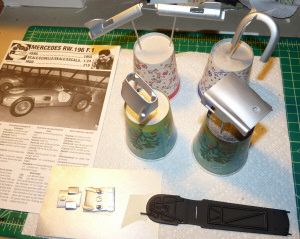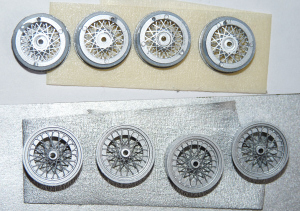 12/17/12 - The three piece wire wheels came with really bad silver "plating", which almost looked like paint.  I soaked the parts in Super Clean and ended up with white plastic.  Here you can see the backs and centers glued together, and the fronts still alone.  I am a little worried about the kit's soft rubber tires.  Years ago I had put wheel parts into one tire as a test, and over time, the rubber appears to have "melted" the plastic!  I noticed this with a Protar F1 kit I built years ago as well.  I may try to seal the tires with a semi-gloss clear, though I'd rather not.  We'll see...

All model photos and commentary  © 2014 Jonelle DeFelice unless noted otherwise.  Please DO NOT COPY unless with permission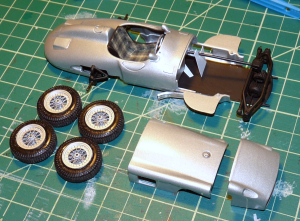 11/21/13 - The never ending project still isn't complete!  But in the last year some work was indeed done.

The photo at left shows the finished body panels mostly installed.  The white paper is holding up the steering column.  Tires were sprayed with a coat of flat clear, but I think it was a mistake.  It didn't dull down the sheen much, and I wonder if it will ever really dry.  The tires are not the world's best, and you can't easily glue all the wheel parts together in a "sandwich".  But I tried...  I couldn't find any real good color pics of the 1:1 suspensions, so I went with basic black.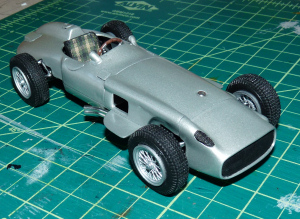 1/9/14 - This really is a crummy kit... There, I said it.  It is official.  At left is the model as of this second. The fit of the wheels to tires is just bad.  Proportions of the whole car seem off.  NO cockpit detail.  The best part is the included brass screen that is for the front grille & intake, which I painted black.  I used foil on the exhaust pipes, which worked better than I expected.  There is also no firewall, so I used a bit of styrene sheet to make a fake one.  I still have to add some details, and I am not sure yet if I want to add the roundels.  

1/9/14 PART 2:  That's it.  Windshield on, MB logo on, knock-offs on... glad this one is over, after God knows how many years...