Revell Ferrari California

Here we see the almost completed chassis.  Parts fit pretty well.  The wheel wells are seperate parts.  The one piece intake needs detail painting, as you can see.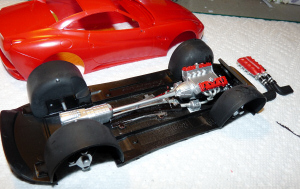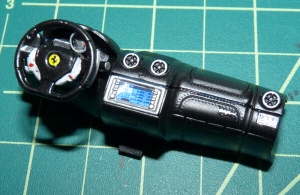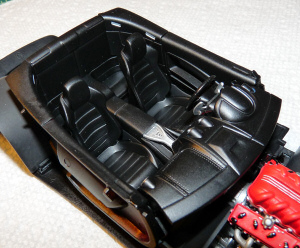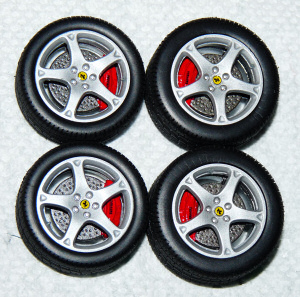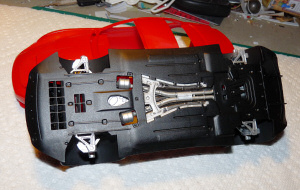 Another view of the chassis.  The chrome part that appears to be a heat shield over the exhaust got a black wash to tone down the shine and make it look a bit more accurate.

The dash is made up of a top and lower half.  The gauge decals were gray, which didn't match any photos I had of the real car, so I tried printing up some of my own.  The navigation screen came out better than the gauges...

The interior, which won't show much in this top-up version of the kit.  There is a top down version for those who like detailing interiors!  I went with flat black for most of the floor pan with semi-gloss black for parts that are supposed to be leather.

The wheels are the usual, annoying Revell "sandwich" style setup, with a spoked back, brake discs, and wheel fronts.  The tires had some odd marks on the sidewalls.  I stripped the chrome off the parts, sprayed them silver, and then tried some charcoal paint for the brake rotors, which are ceramic on the real car.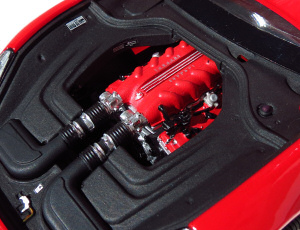 A better view of the one-piece air intake part, detail painted.  I almost forgot to add the FERRARI decals!  The large black area under the hood needs painting black, as it is all cast into the body shell. 

One suggestion I have for anyone planning on building this kit, is to get a hold of an aftermarket window mask kit.  The front and rear windows have very faint lines where you are supposed to paint the black edges.  I tried making my own mask, with less than perfect results.  Also, the black panel under the trunk lid is another thing you should plan first.  I was going to go the decal route, but forgot all about it until the paint was done.  Since I didn't have a template, I thought I'd go with some old black Bare Metal Foil I had.  No dice...  In the end I used some paint.  Turned out OK, but you should try remembering and planning this detail before hand... I added some front & rear marker lights, since US spec cars come with them.  Mine are simple, just foil and paint.